Canada: Policemen told to wear fur, not wool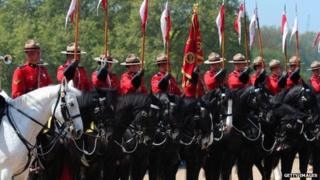 Canada's mounted police won't be allowed to alter their iconic uniform by swapping traditional muskrat fur hats for woolly "tuques", it seems.
The Royal Canadian Mounted Police (RCMP) planned to introduce wool beanies in response to the "collective attitudes of their members and the public" about fur, the National Post reports. It said they were just as effective in the winter as fur. Officers who work in the extreme cold would have been exempt but would have only been allowed to wear fur hats that had pelts supplied by humane trapping methods.
The Conservative government has ordered the Mounties to reverse the plan, saying it was giving in to radical animal rights groups rather than upholding a Canadian tradition. "The RCMP decision, which is causing much glee among anti-fur activists, is being fully overturned. Our government will always stand up for Canada's hunters and trappers," says Environment Minister Leona Aqlukkaq, who comes from the fur-trapping northern territory of Nunavut. The force has already ordered 10,000 tuques to replace the muskrat hats.
It's not the first time the RCMP dress code has caused controversy. In 1990, Sikh Mounties won the right to wear turbans on duty. But a Mountie who was recently caught on film smoking marijuana while in uniform was stripped of his right to wear it.
Use #NewsfromElsewhere to stay up-to-date with our reports via Twitter.