'Democracy dogs' give Hong Kong protests an added bite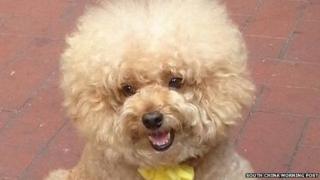 Pro-democracy rallies in Hong Kong have been given an added bite by demonstrators who bring their pet dogs to protest venues, it appears. Known as "democracy dogs", many of them sport yellow ribbons adopted as a protest symbol by their owners demanding the resignation of Beijing-backed Chief Executive CY Leung.
One of the dogs, a French bulldog called Meimei, was equipped with goggles and a mask after police used tear gas against the protesters. Her owner couldn't vouch for Meimei's precise political views. But he told the South China Morning Post, an influential local newspaper, that "she is definitely pro-democracy".
As well as energising the protests, the dogs draw large crowds of onlookers hoping for a photo-opportunity, the South China Morning Post reported.
Dogs are not the only animals at the demonstrations. Hong Kong's most famous stuffed toy, Lufsig, was spotted adorning a provisions tent for protesters, the newspaper said. The toy wolf became a symbol of anti-government sentiments after someone threw it at Leung in December 2013.
Even though Hong Kong is famous for its intense pace of urban living, its residents are known for their love of animals. Earlier in 2014, dog-friendly buses were launched in the megalopolis. In August, more than 100 distraught animal lovers converged at the headquarters of a railway company to protest against station staff allowing a train to run over a stray dog.
Use #NewsfromElsewhere to stay up-to-date with our reports via Twitter.