China: President tells tourists to be 'civilised' abroad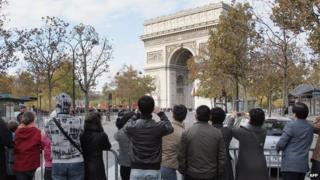 Chinese President Xi Jinping has become the latest Beijing official to advise Chinese tourists improve their image abroad, apparently by eating less instant noodles.
"Don't throw mineral water bottles around and don't damage the coral reef here," he says, during a talk with Chinese residents on a recent visit to the Maldives, adding, "Eat less instant noodles and more seafood," China News Service agency reports.
Xi's comments were apparently aimed at the more than 400,000 Chinese tourists expected to go to the Maldives this year, who have developed a reputation for eating food brought from home rather than trying the local cuisine. But with 100 million Chinese citizens expected to travel abroad this year alone, his words reflect a wider push to make sure tourists serve as ambassadors for their nation.
Last year, Chinese vice-premier Wang Yang expressed concern that the "uncivilised behaviour" of some Chinese tourists was harming the country's image overseas. Soon after that, the China National Tourism Administration published a special Guidebook to Civilised Tourism with an extensive list of dos and don'ts.
China Daily writes that habits such as clearing throats loudly, jumping queues, taking off shoes on planes and trains, squatting and smoking in public places could earn tourists a bad reputation.
Use #NewsfromElsewhere to stay up-to-date with our reports via Twitter.