Masahito Yoshida in 11,000km north-south Africa trek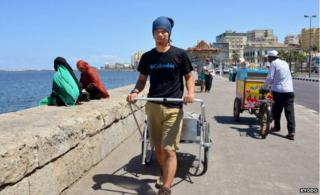 A Japanese man is walking with a cart 11,000km (6,800 miles) across the length of Africa - only a year after completing a round-the-world trek in the same manner.
Masahito Yoshida, 33, of Tottori left the Egyptian port city of Alexandria on Sunday on his journey to the Cape of Good Hope in South Africa, the Japan Times newspaper reports. He's taking everything he needs - around 100kg (220lb) of water, food, cooking utensils and a tent - in a two-wheeled cart that he pulls behind him.
His route will take him through Sudan, Ethiopia and Tanzania along the way - a journey encompassing deserts, savannah grasslands and high mountains. "I am excited about meeting people and animals in places that will be passed by if you travel by train or bus," Yoshida says.
If he makes it, Yoshida will have added another continent to his current tally of four. The 44,000km round-the-globe trip he finished in June 2013 took him across Europe, Asia, North America and Australia. Yoshida overcame immigration bureaucracy, theft, and several bouts of heat stroke to complete the journey in 1,621 days. "Sure, there were times that I thought my life was in danger," he says. "But I was also touched by the kindness of people." His goal is to cross every continent on foot.
Use #NewsfromElsewhere to stay up-to-date with our reports via Twitter.