China: Cartoons to foster 'ethnic solidarity'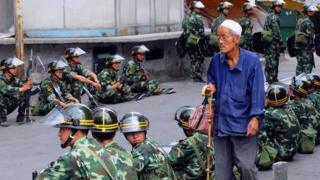 The authorities in China are sponsoring a TV cartoon to ease ethnic tensions in troubled Xinjiang province, it is reported. But cultural differences between Muslim Uighurs and Han Chinese mean it is difficult to agree on title music, as well as notions such as time travel and pet characters.
The 3D cartoon retraces the story of the Fragrant Concubine, an Uighur princess who married an 18th Century Chinese emperor in a politically important union, reports the Global Times newspaper, which also shows images of the characters.
The cartoon, called Princess Fragrant, is part of the Xinjiang administration's efforts to "boost ethnic solidarity", the state-run daily says.
But the project hit problems from the very start. It took the cartoon's director, Deng Jianglei, more than a year to find someone to compose title music and lyrics.
"The musician has to be accepted both by the communities of Han and Uighur people, which means he or she has to be familiar with two different cultures and musical styles, which is difficult," he told the Global Times.
Concepts such as animal characters are also a problem. The introduction of a snake and then a squirrel character in Princess Fragrant aroused objections from Uighur artists in the team.
"Snakes are regarded as evil in Islamic culture, and Uighur families seldom keep pets, unlike Han people," says Hong Qi, a half-Uighur musician chosen to compose the cartoon's theme music.
But the director eventually insisted on using an animal character "for the sake of the market", the Global Times reports.
Transcending time and space with time machines is a common plot device in cartoons, but local Uighur artists were strongly against the concept, the paper adds.
As work on the cartoon continues, Sheng Jun, an official at the Xinjiang Bureau of Culture, insists that its creators get all the sensitive details right. "It is similar to fighting a war in the realm of ideology. If we don't pass on positive energy, the opposite side would occupy the battlefield," the official says.
Xinjiang, which is about the size of Iran, is the traditional home of Muslim Uighurs. They speak a distinct language and have different customs to the majority Han population elsewhere in China.
International attention turned to Xinjiang in July 2009 when bloody clashes between Uighurs and Han Chinese in the region's main city, Urumqi. Further outbreaks of violence followed, including an attack in May at a market in Urumqi, that left at least 31 people dead. Chinese officials often attribute attacks in Xinjiang to Uighur separatists.
Use #NewsfromElsewhere to stay up-to-date with our reports via Twitter.