UAE map warns tourists to avoid London hotspots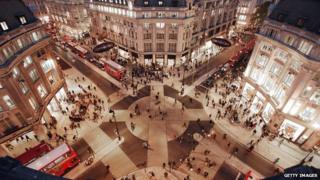 Piccadilly and Oxford Circus are among the "places to avoid" in a new official safety map of London for tourists visiting from the United Arab Emirates.
The safety advice for the capital was published on the UAE foreign ministry website after attacks on UAE nationals in London, The National daily reports. Areas that the map classes as "more dangerous" include tourist hotspots such Soho and Oxford Street - where Selfridges, a well-known department store "which attracts many Emiratis" is located.
Further out from the centre, Shepherd's Bush market and Queensway are singled out as being "less safe". The foreign ministry warns of fraud, theft and pick-pocketing, and says its advice is based on information from the Metropolitan Police website.
Several UAE residents say they'll take the advice seriously. "You have to follow the guidelines from the government," says Mohammad Al Awadhi. Meanwhile, 29-year-old Mona Al Ali, thinks people from the Gulf may be targeted in particular. "They might not be too discreet with their jewellery when they travel and they wear nice clothes."
The warning comes after two incidents involving UAE nationals in London. In April, three women were attacked by a burglar with a hammer in Cumberland Hotel, near Marble Arch, and a couple were threatened with guns in a Paddington flat two weeks later.
Use #NewsfromElsewhere to stay up-to-date with our reports via Twitter.