Hitch-hiking robot ends 6,000km journey across Canada
By News from Elsewhere...
...media reports from around the world, found by BBC Monitoring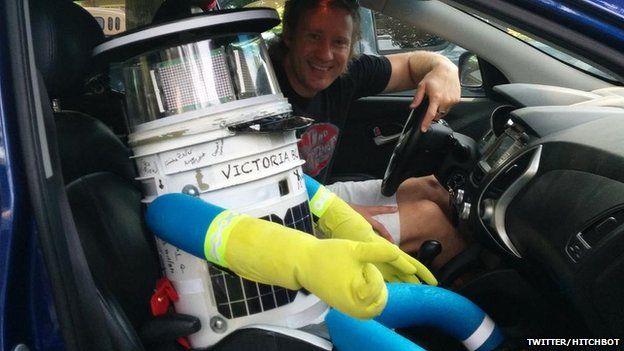 A robot sent out to travel across Canada by hitch-hiking has completed its 6,000km (3,728-mile) trip - apparently in one piece.
HitchBOT reached Canada's Pacific coast at Victoria, British Columbia nearly three weeks after leaving Halifax in Nova Scotia, far away on the Atlantic coast, the Canadian Broadcasting Corporation reports. "I'm on a boat," one of HitchBOT's last tweets says. "Well, a ferry to be exact. Victoria, I'm on my way." An arrival event is due to be held on Thursday.
The robot was made by a group of Toronto researchers as an experiment in human-robot interaction and artificial intelligence technologies. Built from an old beer-cooler bucket, foam pool noodles, wellies, solar panels and a computer, it uses GPS technology to send its creators details and pictures of its location. "This project asks: can robots trust human beings?" researcher Frauke Zeller of Ryerson University says.
David Smith of McMaster University tells the Toronto Star newspaper it took only two minutes for HitchBOT to be picked up after being left on a roadside in Halifax on 27 July. Since then, its journey - which included attending a wedding in the province of British Columbia - has gathered more than 30,000 followers on Twitter and over 40,000 likes on Facebook. "We're elated," Smith says. "It's been really great fun and to me it seems like it brought people together in a really interesting way."
Use #NewsfromElsewhere to stay up-to-date with our reports via Twitter.