Switzerland: Army promises troops 'Swiss-made food'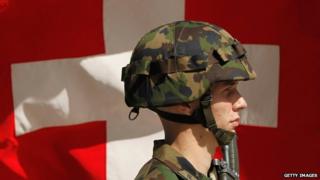 The Swiss armed forces have promised that servicemen will only be given food produced in Switzerland or in accordance with Swiss food standards, apparently in response to animal rights concerns about imported fare.
New rules coming into force next year say bread, dairy and meat produce must be sourced inside the small Alpine country, the Neue Zuercher Zeitung newspaper reports. Fish can come from abroad but must meet international sustainability standards. Ration packs will also be Swiss-made as far as possible, although things like coffee will still have to be imported.
The patriotic diet will reportedly cost the military an extra $1.7m (£1m) a year, up from the current $72m. With a daily food budget of only 8.50 Swiss francs ($9) per soldier or airman a day, the army uses a lot of imported produce. But servicemen have complained about being served chicken from Hungarian batteries with poor animal rights standards.
The change has won applause on social media. "Only 8.50 francs per soldier per day! Now I know why I had to send my nephew food packages to his training camp," one Twitter user jokes. Switzerland still has compulsory military service, and more than 90% of its servicemen are conscripts.
Use #NewsfromElsewhere to stay up-to-date with our reports via Twitter.