Smuggler who 'ate money' sentenced in Jamaica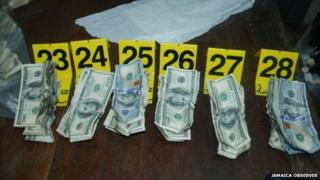 A Venezuelan man has been sentenced to three months in prison in Jamaica after being found guilty of swallowing more than $100,000 in cash.
Eddy Alberio Mancipe was stopped as he tried to board a flight from Sangster International Airport in Montego Bay to Trinidad, The Gleaner newspaper reports.
Officers became suspicious while questioning Mr Ortega, 41, and he was later arrested. He complained of sickness and was taken to hospital, where over two days he passed 80 plastic packages containing the $103,500 (£62,000), which he had been trying to smuggle off the island. As he had already been held in police custody for eight months before being charged and sentenced this week, he was "deported with immediate effect", the agency says.
Financial Investigation Division chief Justin Felice says Jamaica will step up port and airport checks, adding "This is the first instance that we have found cash being smuggled from Jamaica in such a fashion. It is indicative of how far persons will go in an effort to evade detection by law enforcement tasked with combating money laundering".
Use #NewsfromElsewhere to stay up-to-date with our reports via Twitter.