China: Buddhists tempt IT workers to go gadget free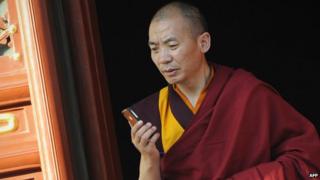 A monastery in China is offering courses for "troubled" IT workers, it appears
The Longquan Monastery in Beijing is advertising an "IT Dhyana Camp" for employees in the city's internet and technology companies, state-run Xinhua news agency reports. "Dhyana" is the Sanskrit word for "meditation", and technology professionals are taking part in the free course which insists that applicants follow the temple's rules of simple lodging and a vegetarian diet. According to Xinhua, participants will be deprived of their phones and other digital gadgets for the duration of the three-day course, and they'll be taught meditation, Buddhism and farm work.
Master Xianxin from Longquan Monastery tells Xinhua that many of the 400 applicants for the course are suffering anxiety and pressure relating to the fast pace of life and technological advances, and are looking for both clarity and new personal goals. "Many people today lack self-awareness," he says. He's also certain that Buddhism should embrace the internet: "We don't see an inevitable clash between Buddhism and technology. Instead, new technology can assist with the spread of Buddhism."
According to Xinhua, some Buddhist masters have a "huge" online following in China, offering guidance and wisdom to internet users. Academic Jiang Hong told the news agency that Buddhism and other religions are becoming more popular thanks to improved living conditions. "Chinese society has reached a stage where many people no longer lack basic necessities and want to pay more attention to their spiritual needs," he said.
Use #NewsfromElsewhere to stay up-to-date with our reports via Twitter.