Colombia: Bogota bullfighters stage hunger strike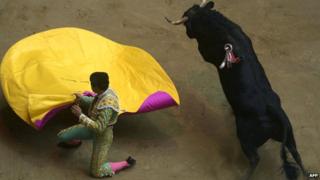 Colombian bullfighters have gone on hunger strike to push for bullfighting to resume in the capital Bogota, two years after the mayor effectively banned it.
Eight bullfighters have been striking for more than a week in tents outside the city's only bullring, La Santamaria, the El Tiempo newspaper reports. "We don't want food - we're hungry for bull!!!" says a banner hanging above their picket line. The bullfighters reckon 35,000 jobs have been affected by the closure of the stadium and that the city's been deprived of $1.6m (£1m) in income.
Mayor Gustavo Petro effectively ended bullfighting in the city when he cancelled the bullring's lease in June 2012. He said he wanted public places to be used for activities of "life, not death". The constitutional court was supposed to rule on the issue last year, but a final decision has been repeatedly postponed.
The issue of bullfighting - associated in the minds of many Colombians with country's traditional landowning elite - has been passionately debated on Colombian social media. Many Colombians say it's cruel, but defenders insist it has significance as art. A 2004 law protects bullfighting as a form of artistic expression, but many Colombian mayors - under pressure from animal rights campaigners - have used loopholes to stop it.
Use #NewsfromElsewhere to stay up-to-date with our reports via Twitter.