North Korea 'drops Kim Il-sung from new banknotes'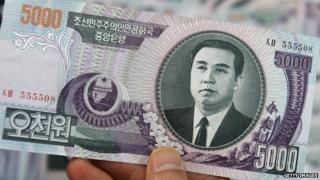 North Korea has dropped Kim Il-sung from its highest-denomination banknote, completely erasing the revered founder's image from its currency, it seems.
A new 5,000-won note introduced at the end of July no longer features current leader Kim Jong-un's grandfather, the South Korean newspaper Chosun Ilbo reports. Instead, it now has a picture of what North Korea officially regards as his birthplace - Mangyongdae - on the front, and a Pyongyang museum that displays gifts from foreign leaders on the other.
The note - officially worth $40 (£23), but thought to be be less than $1 on the black market - was already the last to bear Kim Il-sung's features after he was dropped from the 1,000- and 2,000-won notes in 2009. That was part of a much more far-reaching currency reform that reportedly prompted widespread anger inside North Korea, and is widely seen as a political disaster. This latest change could be aimed at flushing out privately hoarded money reserves, South Korean politicians say.
As for the dropping of Kim Il-sung, the Daily NK website says it could mean that Kim Jong-un is signalling that he's now fully in control since coming to power in 2011, and may even be showing an openness for economic reform. Alternatively, North Korea might just be preparing to introduce a new 10,000-won note in response to inflation - which would again feature Kim Il-sung.
Use #NewsfromElsewhere to stay up-to-date with our reports via Twitter.