Colombia: Rival Christ the Redeemer erected in theme park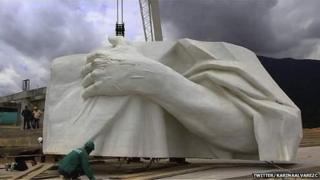 Traffic in the Colombian city of Floridablanca has come to a standstill as a giant statue of Jesus Christ - that is hoped to rival the iconic monument in Rio de Janeiro - has been delivered to the town in pieces.
Bystanders have been tweeting pictures of the statue parts, which are destined to stand in the EcoParque El Santisimo (The Blessed EcoPark) due to open next year, the Colombia Reports website says. "In #Santander #EcoParque #PaNaChi the Christ of Juan José Cobos at 40m will be higher than the Corcovado in Brazil," tweets onlooker Karina Alvarez.
District governor Richard Aguilar Villa also tweets enthusiastically about the project, saying: " The #ElSantísimo monument is made of nine pieces in total. The view from the project will be spectacular!" The sculpture will reportedly stand 131ft (40m) tall when finished. The pieces of the Christ statue are arriving over two weeks, each weighing four tonnes. Its creator, Juan Jose Cobos, says the statue has taken more than 20 people two years to create.
But not everyone is impressed. A YouTube video showcasing the park and statue has been viewed more than 3,500 times but has only one comment: "What a waste of money." And many on Twitter ask why so much has been spent on the statue, rather than tackling a serious drought that has has affected the region and which is expected to continue for months.
Use #NewsfromElsewhere to stay up-to-date with our reports via Twitter.