Norway: Prisoners sorry to see jail farm close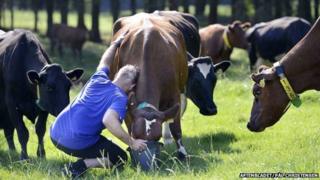 One of Norway's largest prisons has decided to shut down the farm on its premises - but inmates are reportedly heartbroken at bidding farewell to the animals that helped them fight addiction and move on from lives of crime.
Half of the 200 animals at Ana farm are cows, and the prisoners look after them, milk them and maintain the farm. But the authorities say the farm doesn't occupy enough prisoners to be cost-effective. A former prisoner at Ana, who prefers to be known as Patrick, is campaigning to halt the closure. "I got so much from working on the farm," he tells Aftenbladet newspaper. "It taught me a lot about responsibility. I couldn't skip a day, as the cows depended on me for milking at regular times."
The hard, regular work also helped Patrick overcome drug dependence. "Something happens to us addicts when we come into contact with animals," he says. "It leads us to open up to other people."
The KY union for prison staff agrees, saying the farm is part of Ana's history and its closure will affect staff and local community - not only the inmates. But Prison Governor Inger Klementrud insists other work such as joinery, carpentry, construction and modern machinery will give prisoners more chances in the labour market. "It's nice for inmates to be around animals, but the Correctional Service oversees their sentences, not therapy," he says.
Patrick says he will miss one cow in particular, called Katta. "She is very fond of people and responds to their names," he says. "She's put on a few pounds, as everyone is happy to give her treats. Plenty of people now on the outside are going to miss Katta."
Use #NewsfromElsewhere to stay up-to-date with our reports via Twitter.