Ukraine: Guerrilla artists make fun of pro-Russian gunmen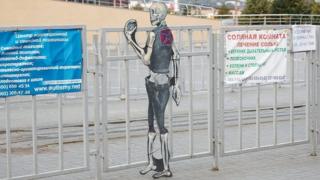 An underground group of Ukrainian artists is apparently trying to ease the tense atmosphere in the eastern city of Donetsk by putting up cardboard cut-outs of gunmen on walls and fences.
The life-size cut-outs make fun of the threatening presence of pro-Russian separatists patrolling the streets, Ukrainian news website Podrobnosti reports. The caricatures of separatist leaders with guns, and skeletons lobbing grenades, started to appear around the city in the middle of July.
The group, Murzilka, gets its name from a Soviet-era children's magazine. The artists say they want to show people that the rebels are not here to stay and there is resistance to their presence in the city. The guerrilla artists try to remain anonymous as as some of them fear for their lives. But they have a website where they show how they produce their art.
Apparently, the reaction from the separatists has not been especially negative - some of them even perceive the art as a kind of homage to them, Podrobnosti says. Other images project a less neutral message, such as a wall painting which shows the pro-Russian separatist Igor Strelkov - who has been leading the insurgency in eastern Ukraine - with a gun to his head.
Use #NewsfromElsewhere to stay up-to-date with our reports via Twitter.