German nightclub offers 'free passes to Erdogan voters'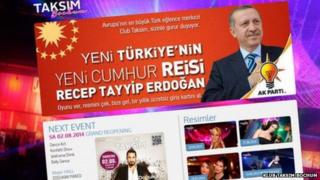 A Turkish nightclub in western Germany has offered free membership to people who support Prime Minister Recep Tayyip Erdogan in Turkey's forthcoming presidential election, it seems.
Klub Taksim Bochum, which claims to be "Europe's largest Turkish entertainment venue", published an advert on its website supporting Erdogan as the "new president of the new Turkey", Turkish news portal Diken reports. The ad says: "Vote, take a photo of the ballot, bring it to us, and receive free membership for a year."
Turkey's 2.7 million expatriate voters - 5% of the total electorate - could be influential in August's poll as they cast their ballots at more than 100 embassies and consulates worldwide. Erdogan has recently become embroiled in corruption allegations, but correspondents say he is still expected to triumph in the election.
Some Turkish news sites have elaborately described the alcoholic drinks available at the club - since the piously Muslim prime minister is teetotal and disapproves of dancing. But while Turkish leaders have refrained from comment, German politicians are appalled. "This is not compatible with our democratic principles, and is punishable by law," Social Democrat MP Serdar Yuksel, himself of Turkish origin, tells the Westdeutsche Allgemeine Zeitung. And Christian Democratic Union leader Christian Haardt hopes this "apparent offer to buy votes has been checked by the relevant authorities".
As for the club's owner, Ibrahim Demircan, he blames the ad on a local marketing company and says he may take legal action. "I make my living by selling alcohol," he tells the Westdeutsche Allgemeine Zeitung. "My guests are 95% anti-Erdogan. I would have to be mad to make such an offer. Imagine if 10,000 people turned up having voted for Erdogan - I wouldn't be able to afford it!"
Use #NewsfromElsewhere to stay up-to-date with our reports via Twitter.