France: Bill aims to simplify immigration rules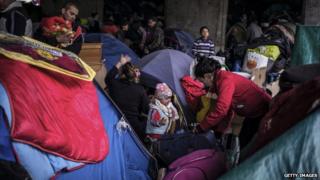 The French interior minister has proposed new legislation to simplify the country's immigration and asylum rules.
Interior Minister Bernard Cazeneuve says reforms are necessary so that France can remain "a land of immigration and a land of asylum", in an interview with the Liberation newspaper. "Countries that are closed in on themselves are doomed to decline," he adds.
The proposed legislation would create a new four-year residence permit called a Talent Passport - for artists, scientists, athletes and business workers. Also, people who already have residence permits would be allowed to extend them for four years - cutting out the headache and bureaucracy of the current system where visas have to be renewed annually. Foreigners who have been in France for more than five years can apply for a 10-year visa if they prove they read and understand French.
Meanwhile, for people seeking asylum the bill aims to cut the waiting time - from the current average of two years to about nine months by 2017 - for their application to be processed. It would also give access to a lawyer and government housing - since many people have to sleep in slums or make-shift housing because of the lack of government facilities. But the plans have already been criticised by immigration groups who say they do not go far enough.
Use #NewsfromElsewhere to stay up-to-date with our reports via Twitter.