Greenland: Bill to raise secrecy around mining projects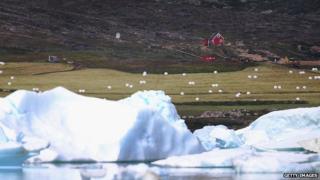 Environmentalists, politicians and members of the public in Greenland are protesting against a law that could keep major mining projects under wraps and restrict the right to appeal against them, it's been reported.
The bill making its way through Greenland's parliament limits access to mining information until after a project has been given government approval. It would also deprive the country's 56,000 citizens of the right to appeal against the decision, the Danish Jyllands-Posten newspaper reports. The bill comes as large-scale mining plans - including uranium extraction - are in the pipeline. The plans promise to transform but the economy there are concerns that mining will damage the country's fragile ecology.
Opposition leader Sara Olsvig is not convinced that the government merely wants to cut down on paperwork for civil servants dealing with information requests from reporters and activists. "If we shut down civil society," she says, "It will be a major weakening of our system." The University of Greenland's Klaus Georg Hansen is also sceptical. "If it takes a long time to process requests for access they must be tackled with extra staff, otherwise it looks like an attempt to keep people out of these potentially controversial decisions," he says.
But campaigners may yet see their concerns addressed, as Ombudsman Vera Leth - the official who scrutinises government decisions - has asked Mining Minister Jens-Erik Kirkegaard to explain why he thinks the bill does not threaten the public's right of access.
Use #NewsfromElsewhere to stay up-to-date with our reports via Twitter.