Chile: Social housing built to include indigenous design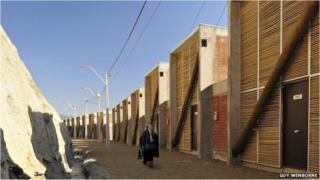 A group of Chilean architects are using designs from the indigenous Mapuche culture to create homes for them in a conventional social housing development.
The 25 two-story houses were commissioned at the request of the Mapuche people themselves, and the architects, from the Undurraga Deves agency, say the houses will allow them to "take part in modern society without abandoning their identity," Argentinean newspaper Clarin says. The houses are inspired by the Mapuche "ruka" dwellings, made from tree trunks and branches. They are arranged in a row facing east, as the Mapuche prefer their front doors to greet the rising sun, and have shady, private interiors which contrast with a large outdoor communal area.
But there are modern touches as well - for example the facades have diagonal wooden beams to hold the side walls together in the event of an earthquake - central Chile is home to the major San Ramon Fault. Incorporating the indigenous way of life into modern architecture is something Undurraga Deves is getting good at - the agency has been nominated Mies Crown Hall Americas Prize for another Andean project.
Use #NewsfromElsewhere to stay up-to-date with our reports via Twitter.