Japan: Child robot dolls help dementia sufferers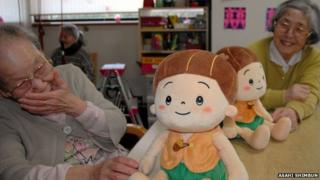 Japan is seeing a surge in sales of talking dolls that help elderly people stave off loneliness and perhaps even dementia, it seems.
Several companies have developed childlike dolls that go beyond repeating set phrases to conduct a range of basic conversations. They have become a hit with many pensioners and earned some scientific plaudits too. Nobu Komatsu, 86, told Kyodo News Service about her Oshaberi Makun (Talking Makun) - a doll that recognizes certain words and responds in the voice of a five-year-old boy. "After spending about a month with this boy, I started to feel affection for him and cannot leave him alone. I feel more positive and talk more often," she said, patting Makun's head.
Others dolls include Yumenoko Neruru (Child of Dream Neruru), which sings 50 songs, Unazuki Kabochan (Nodding Kabochan), and Primopuel, which calls owners by their name. The Bandai company that developed Primopuel initially targeted 20-something women, but was surprised to see it take off among the elderly. Executives think young people are buying the dolls for relatives they don't have the time to visit.
Kabochan's manufacturer Pip had Osaka City University Graduate School of Medicine conduct a test in 2012 in which one group of elderly ladies was given the talking doll and another a silent version, Asahi Shimbun reported at the time. Cognitive skills like memory and judgment improved in the group with the talking Kabochan. "The robot could help prevent dementia," said Osaka team member Masaaki Tanaka. Neurologist Kimihiro Yoneyama agrees: "Speaking is the easiest way to stimulate your brain... and the dolls may provide an alternative for people who are unable to hold regular conversations."
The Japanese government concedes that loneliness is a problem among the country's elderly. A 2012 study showed that around a quarter of pensioners who live alone may go days without having a conversation with another person.
Use #NewsfromElsewhere to stay up-to-date with our reports via Twitter.