Canine intuition 'saves Ukrainian troops'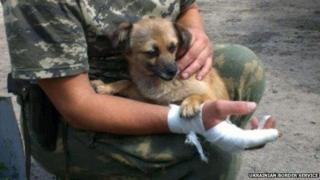 Ukrainian border guards say they have adopted a stray dog who saved their lives from separatist rebel attacks.
The mongrel wandered into the Dovzhanskyy border post in the east of the country a few days ago, looking for food and shelter. The troops adopted the dog, naming her Zhuzha, and soon had their generosity repaid, it seems. "None of the border guards doubts that Zhuzha has a sixth sense. She feels another mortar attack coming half an hour before it happens, and harries her adopted owners into taking cover," the Ukrainian Border Service says.
One soldier, called Serhiy, says Zhuzha has saved his life three times already, most recently on Wednesday night when she started barking ahead of an attack that left five soldiers injured - two of them seriously. "It could have been a lot worse, if it weren't for Zhuzha," he said. The dog gets VIP treatment from all the guards, as there's little prospect of an end to the shelling, the Border Service reports.
The guards wrested control of Dovzhanskyy from the rebels at the start of July, but still come under regular fire from pro-Russian armed groups. The infrastructure of the border post has been almost totally destroyed as a result.
Use #NewsfromElsewhere to stay up-to-date with our reports via Twitter.