UAE: Obesity and prayer place 'huge strain' on knees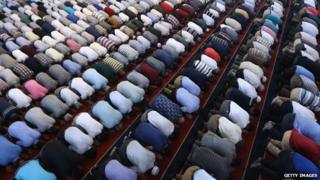 Soaring obesity rates and a kneel-to-pray culture have put Muslims in the United Arab Emirates among the most common sufferers of knee problems, it is claimed.
The tradition of praying five times a day, coupled with the pressure to the knees caused by carrying extra weight, have triggered demand for knee-replacement operations, reports The National, an Abu Dhabi daily.
"If you are kneeling several times a day for the whole of your life, you are putting a huge strain on a joint that is not designed for that," Dr Peter Birch, a surgeon at Abu Dhabi's Mafraq Hospital, tells the paper.
Religious practices in the UAE could also mean that the anatomy of locals' knees is different from people in "non-kneeling" countries, it is suggested. "Because they kneel from a very early age we think it actually grows in a different shape because of the praying," Dr Birch tells The National.
In an earlier report looking at the problem of what is known as the "Arab knee", the paper said that Arabs appear to injure knees earlier and more often than people in other parts of the world. According to the report, a recreational football player in the UAE is five times more likely to suffer a serious knee injury requiring surgery than one in Europe or the US.
The claims set off a lively debate on social media, with one commentator wondering why most of the world's 1.6 billion Muslims do not suffer from knee problems if praying was so harmful. In a subsequent editorial, The National said: "Praying alone is unlikely to lead to degenerative knee problems in many, but overeating probably will."
Use #NewsfromElsewhere to stay up-to-date with our reports via Twitter.