End of the road for Kiev valet parking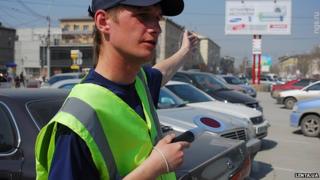 It's hard to find a parking space in the Ukrainian capital Kiev at the best of times, and it looks like a government decree banning valet parking could be about to make it worse.
Most parking in Kiev is kerbside or in small spaces, presided over by the ubiquitous parking attendant with his roll of tickets and satchel full of loose change. Amid frequent complaints that these parking lots block traffic and overcharge drivers, the cabinet has ordered Kiev City Council to replace them with pay-on-entry car parks, advance-purchase tickets and mobile phone apps. The council can expect hefty fines if it doesn't provide the ticket machines and online services in question, Kiev Vlast reports.
The council's chief legal officer, Lesya Veres, told Mayor Vitali Klitschko that the committees responsible for roads, safety and transport infrastructure must sort the problem out fast if the cash-strapped city isn't to face a head-on collision with the government. The danger is that the parking spaces may vanish along with their attendants, because the council can't afford to install meters. But the council's headache may not necessarily daunt Kiev's famously bold parkers. Their creative solutions to ever-decreasing spaces are already celebrated in social media, such as the Facebook page "Parking Heroes".
Use #NewsfromElsewhere to stay up-to-date with our reports via Twitter.