Anti-Hamas lollipops dropped in West Bank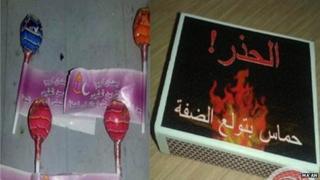 Israel has dropped hundreds of lollipops bearing anti-Hamas messages on two cities in the West Bank, it appears.
The sweets, found in both Nablus and Ramallah, are adorned with the message "Ramadan Kareem… Some sweetness, after Hamas has made life in the West Bank bitter," the Ramallah-based Ma'an news agency reports. According to witnesses in Nablus, Israeli troops threw the sweets after deploying heavily in the region as part of their search for three teenagers who went missing while hitchhiking in the West Bank.
The Times of Israel suggests that the misuse of the the Arabic word for "bitter" on the lollipops has caused locals to assume that the source of the message was Israeli. However, the Israel Defense Forces told the Jerusalem Post that it "was not familiar with the incident".
Ma'an says the sweets are not the first "gifts" left by Israeli troops in the last week. Residents of Nablus tell the agency they have found matchboxes bearing the Arabic words "Beware! Hamas is inflaming the West Bank". More than 600 people have been detained in the two-week search for the missing Israelis, Ma'an reports, while Israel has named two suspects over the suspected abduction.
Use #NewsfromElsewhere to stay up-to-date with our reports via Twitter.