Iran parliament up in arms over leggings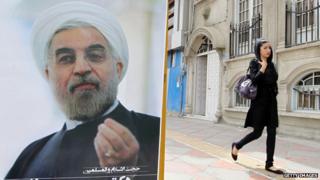 Iran's interior minister has been called before parliament to explain why he isn't doing more to stop the country's women wearing leggings.
Abdolreza Rahmani-Fazli was summoned to answer questions about why his ministry has not been doing more to enforce "modest dressing". MPs claimed that women who wore leggings on the streets of Teheran were flouting the official Islamic dress code, according to the Iranian Students News Agency (ISNA).
There was a loud reaction from MPs as photos of what was dubbed "transgressive legwear" were shown on large screens during the parliamentary session. One of them, Ali Motahhari, said the previous hardline government of President Ahmadinejad had been rather lax on such examples of "bad hijab". He expected the relatively liberal President Rouhani to make it an issue.
Leggings, called "support" in Iran, are typically worn by women who only loosely observe the dress law, and have irked some religious conservatives, according to the Al-Monitor analysis site. "We have to accept that solving this issue is not possible in the short term," Mr Fazli told MPs, adding that the modesty law has been in force for eight years, whereas he has been in his job only six months.
Mr Fazli received a "yellow card" warning from parliament for giving unsatisfactory answers, said ISNA.
Use #NewsfromElsewhere to stay up-to-date with our reports via Twitter.