China: Communist Party official sacked for piggyback ride through floods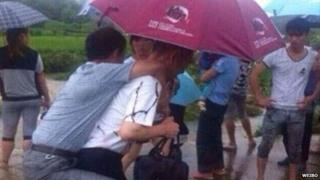 A Chinese official visiting a flood-hit village has reportedly been sacked for accepting a piggyback ride from a villager to avoid getting his shoes wet.
A picture of a city official being carried on the back of a local resident who wades through ankle-deep water in Lantian village in the eastern province of Jiangxi has been widely shared on the internet. The official, named Wang, was apparently searching for village children who had gone missing in a swollen river, state-run China Radio International reports.
A villager named Ding, described as a low-level clerk, offered Wang a personal lift over a flooded path, but Wang's acceptance of the gesture cost him his job. Local authorities thought the "inappropriate act" would have a negative social impact and "tarnish the image of party officials", state news agency Xinhua says.
It's not the first time such a picture has attracted disapproval. Last year a young Communist Party official visiting Zhejiang Province was photographed being carried over floodwaters by an old man in gumboots, the Epoch Times reported.
He was later removed from his post as director of the local government's construction office, to the delight of some social media users. "If you dare to put on airs, civilians will force you to step down," one blogger was quoted as saying.
Torrential downpours have affected Jiangxi since 16 June, Xinhua says, displacing more than 18,500 people.
Use #NewsfromElsewhere to stay up-to-date with our reports via Twitter.