New Zealand: 'Dog on log' rescue not all it seems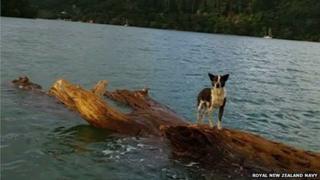 The story of a dog rescue at sea by the Royal New Zealand Navy which went viral has a more straightforward explanation than first thought, it appears.
Sailors from HMNZS Hawea rescued Tiny the dog after spotting him floating on a log in Smokehouse Bay, Great Barrier Island, on 12 June, and the story soon attracted wide attention from global media, the New Zealand Herald reports. It was assumed that the canine had been swept out to sea by recent storms, which caused damage and landslips in the region. "There was significant debris in the water and on one large log floating in the water was this poor, helpless dog. I would hate to think how long he was there," Lieutenant Anthony Norris told the paper.
However, the dog's owner subsequently came forward to offer a more ordinary explanation for Tiny's predicament. Fisherman Ben Ngawaka told the Herald that Tiny had - unknown to him - jumped ship after Ngawaka had stopped his boat to inspect a large log he thought might be useful for repairs. "He must have thought that when we stopped, we were parking on the shore and jumped off," Ngawaka said.
After shopping in Port Fitzroy, Ngawaka returned to the scene of his dog's disappearance to find "a huge naval vessel" whose crew asked him if he might be the animal's owner. "He's fine, he's most probably forgotten the whole thing by now," he said.
After the original story had been viewed over 200,000 times on the Herald's website and shared globally, a Navy spokeswoman subsequently admitted that assumptions made about the rescue had been wrong. "We regret this aspect of our release was incorrect, and are glad that the dog is safe and reunited with its owner," she said.
Use #NewsfromElsewhere to stay up-to-date with our reports via Twitter.