Nauru: Income tax to finally arrive on Pacific island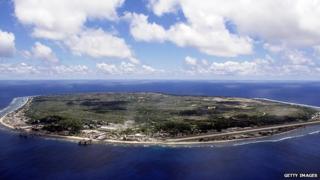 People on the South Pacific island of Nauru will soon have to start paying income tax for the first time, it seems.
The country's new budget sets out plans for a 10% tax on "higher income earners" from October, Radio New Zealand reports. Nauru currently has no personal income or corporation taxes, and in the noughties the country was considered effectively bankrupt.
Although its economy has grown in recent years, in large part thanks to Australian funding for a controversial immigration detention camp, the government wants to "broaden the country's revenue base", according to the radio report. Businesses will also be taxed from July 2015. But lower-income earners need not panic - a tax-free threshold is also in the works.
This isn't the only new source of income for the former British colony. Earlier this year the government announced a huge price hike for journalists' visas, from $200 to $8000 (about £120 to £4770), a move criticised by Reporters Without Borders.
Nauru, the world's smallest republic, has almost exhausted its once-extensive phosphate reserves, and its population of about 10,000 relies on food, water and fuel imports.
Use #NewsfromElsewhere to stay up-to-date with our reports via Twitter.