Israel: Minister Livni presides over same-sex wedding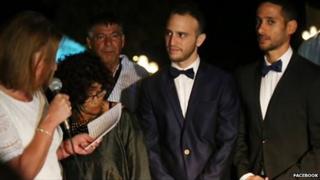 Israeli Justice Minister Tzipi Livni has officiated a gay wedding, although it has no legal status in the country.
Livni presided over the union of Tzach Sa'ar, a foreign ministry diplomat, and Guy Arah in Jaffa on Monday night. The festivities seemed to have the trappings of a traditional Jewish wedding, complete with a canopy and the breaking of a glass underfoot - but without a rabbi present - the Ynet news site reports.
"I am not here as justice minister," Livni said in a speech to the couple, before adding, "Sadly, I do not have the official legal authority to bind Guy and Tzach in a union recognised by the State of Israel." Livni noted that parliament has so far failed to pass two laws she put forward to recognise gay marriage and civil partnerships.
Tzach Sa'ar, who was formerly an aide to a right-wing MP, "will represent Israel with Guy by his side, showing the world Israel's true face", Livni said. Livni has served as foreign minister and is Israel's current chief negotiator with the Palestinians. She dismissed concerns a same-sex union might affront any Jewish values, saying: "We have true respect for this tradition as we see and understand it, an open Judaism that accepts people as made in the image of God."
Use #NewsfromElsewhere to stay up-to-date with our reports via Twitter.