Russia: Group calls for Coca-Cola boycott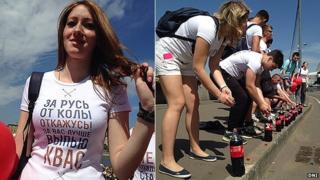 A youth group is urging Russians to stop drinking Coca-Cola, in protest against sanctions the US has imposed over the Ukraine crisis.
The Food Patriotism group marked the start of the school year in Moscow's Gorky Park, with placards and T-shirts proclaiming slogans such as: "For Russia, say 'no' to Cola," and "Defend our children from overseas poison." Twenty people set off metre-high fountains of Coke by mixing it with mints to cause a chemical reaction. "Imagine that happening in your kid's stomach," one activist tells Dni online newspaper.
Earlier, the group appeared outside the US Embassy in Moscow, calling on the public to boycott other US goods such as Pepsi drinks and McDonalds fast food. Food Patriotism insists it's not linked to the Kremlin, although their name comes from a call by Gennady Onishchenko, the country's controversial former chief medical officer, to ban foreign food imports. "We are all consumers, and can vote with our roubles against the goods our ideological opponents," the group says on its website.
Social media comment is generally supportive, but some users have a sly dig. One commenter on the Dni website notes, "Idiots love to say that Coca-Cola can clean engines and kill odours. They keep quiet about what the Russian national spirit - vodka - can do, though."
Use #NewsfromElsewhere to stay up-to-date with our reports via Twitter.