Israel: Evolution to be taught in middle schools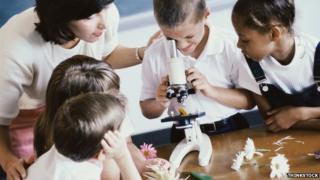 Evolution will soon become part of Israel's official school curriculum for the first time, but there are lingering worries the move could upset some ultra-Orthodox groups.
The education ministry says evolution will be taught as "the accepted theory" to middle school students aged 13-15 starting in the next academic year, the Haaretz daily reports. At the moment, most Israeli schoolchildren are not taught about evolution - only high school students who choose advanced biology as an optional subject, the paper says.
"For years, evolution was only touched upon in some middle schools, depending on if the teacher felt comfortable tackling such a heavy subject," Prof Nava Ben-Zvi, head of the ministry's science advisory committee, tells The Jerusalem Post. "Science is science and the time has come to incorporate the study into the curriculum."
But there won't be any mention of human evolution from apes, the Times of Israel reports, and it isn't clear if the change will apply to state religious schools, Haaretz says.
Reaction from ultra-Orthodox groups has been mixed. The moderate Ne'emanei Torah Va'Avodah welcomed the move, telling the Jerusalem Post it was important for children to be exposed to "different perspectives". But the head of national religious Hemdat Hadarom College says the move is a mistake, "because of the complexity of the subject and the lack of consensus between scientists in Israel and around the world".
Use #NewsfromElsewhere to stay up-to-date with our reports via Twitter.