Germany: Youth party wins in local election landslide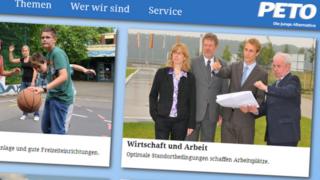 A political party founded by high school students has trounced establishment parties in Germany's local elections - and taken 95% of the mayoral vote - in Monheim am Rhein.
Daniel Zimmermann was just 27 when he first became mayor of Monheim five years ago. Now, aged 32, he's wiped out his town's debt and seen a landslide re-election, leaving his only opponent with just 5% of the vote.
Zimmermann's party Peto, which is the Latin for "I seek", has been fielding candidates since 1999, when most of its members were about 18 years old. On Sunday, the party took nearly two thirds of the vote, leaving little ground for Germany's main parties - Chancellor Angela Merkel's Christian Democrats and the Social Democrats, the Rheinische Post newspaper reports.
As Peto's founding members have grown older, the party has had to create an "over 30s" club so its adult members can stay involved. The local party says that, politically, it's neither left nor right and it wants to turn Monheim into a "town for all".
Use #NewsfromElsewhere to stay up-to-date with our reports via Twitter.