Austria: Boy hands in WWII bazooka rocket by moped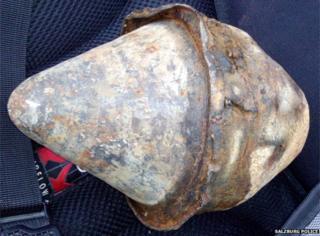 A 16-year old boy has given police in Austria a scare by using his moped to bring them a World War II-era anti-tank missile.
After finding the bazooka rocket on a campsite beach on lake Wallersee, near Salzburg, the teenager popped the rusty projectile into his rucksack and drove it to the police, broadcaster ORF reports. Alarmed, they immediately handed it over to bomb disposal experts. Although they soon established that it wasn't dangerous, the boy was still given a ticking-off for his actions.
"He wanted to do the right thing but in fact did the wrong thing," Salzburg police spokesman Ortwin Lamprecht told the Kronen Zeitung daily. "The anti-tank rocket contained neither a fuse nor explosives. But the boy couldn't have known that." Lamprecht added that anyone finding old ordnance should call the police and keep others away from the object. "The main thing is, keep your hands off! There's experts for that."
Use #NewsfromElsewhere to stay up-to-date with our reports via Twitter.