Egypt election: 'I love you' on ballots to count as vote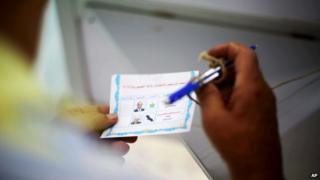 Ballot papers marked with a heart or "I love you" will for the first time count as valid votes in the Egypt's presidential election, local media say.
The head of the country's Higher Election Commission said the rules had been relaxed so that a heart drawn next to a candidate's name - or "I love you" written in the margins - will no longer be seen as a spoiling the ballot paper, the Al-Shurouk al-Jadid newspaper reports. Previously, voters were only permitted to express their preference using a cross or a tick.
The move is likely to be seen as a nod to some Egyptians' devotion to one of the candidates - former army chief Abdul Fattah al-Sisi - who faces only one other opponent, left-wing candidate Hamdeen Sabahi. Since helping oust the Muslim Brotherhood-run government following protests last June, he is seen by many as a saviour from the country's recent instability and the feared rise of Islamism. In the January referendum in which 98% of Egyptians backed a new constitution, many Sisi fans reportedly invalidated their ballot by writing "I love you" on it.
Some feel the hype is at least partly manufactured, and many on social media are cynical about the change. "Congratulations, Egyptian people," one pro-Muslim Brotherhood Twitter user writes: "You now have the right to draw hearts on ballot papers. This is the achievement of the 30 June [2013] black 'revolution'." Another jokes that things might now go further: "For adults only: election officials now will find flowers, hearts, cards with red-lipped kisses, personal greetings and emoticons."
Use #NewsfromElsewhere to stay up-to-date with our reports via Twitter.