Altered Image: Colombian poll hopeful 'doesn't back rival'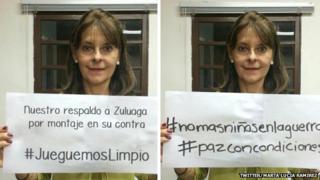 A Colombian presidential candidate is fighting back after a doctored image of her apparently backing a rival candidate was widely shared on social media.
The altered photo shows Marta Lucia Ramirez, running for the Colombian Conservative Party, holding a sign expressing support for the race's embattled front-runner, Oscar Ivan Zuluaga, of the Democratic Centre. In the picture, Ms Ramirez is holding a sign that says: "We support Zuluaga over the montage against him", with the slogan "Let's play fair."
The message in the doctored photo refers to a video published by news magazine Semana in which Mr Zuluaga seems to be talking to an aide about illegally intercepting emails. Mr Zuluaga, who is holding on to a narrow lead in opinion polls over the incumbent president, Juan Manuel Santos, insists the footage is staged. But he has come under pressure to withdraw from the race, and his aide has been arrested.
In the original photo, Ms Ramirez is holding a message against the use of child soldiers in Colombia's long-running conflict - with the hashtag #NoMoreChildrenInTheWar. A second hashtag, #peaceconditions, refers to her support for a negotiated peace with the left-wing guerrilla group Farc. "I reject ALL kinds of montage and media manipulation," Ms Ramirez tweeted in the wake of the incident, adding: "Let's play fair."
Both Ms Ramirez and Mr Zuluaga are allies of former president Alvaro Uribe, who won credit for his hard-line approach against the Farc - while alluding to the prospect of peace. But Mr Zuluaga opposes the peace negotiations launched by the current administration and wants them stopped immediately.
Use #NewsfromElsewhere to stay up-to-date with our reports via Twitter.