France: Catholic Church in 'adopt-a-priest' ad campaign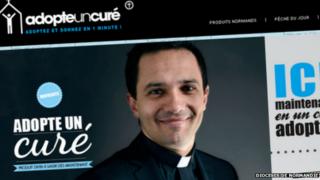 The Catholic Church in France is offering worshippers the chance to "adopt a priest" in an attempt to raise funds, it seems.
The campaign, launched by six dioceses in Normandy, apes an existing French dating website called Adopt a Guy. The campaign says men of the cloth of all ages are available - from trainee seminary priests to retired (but still active) pastors - the 20Minutes news website reports. The video promises "divine products" for potential adopters, and site users are given the chance to help pay for everyday expenses such as meals, clothes and transport.
The online campaign at adoptuncure.com targets 18-40 year-olds, and is aimed at reviving the dwindling number of people giving to the church. According to French newspaper Liberation, donations are one of the main sources of the Catholic Church's income. The diocese of Rouen, which reported 15,000 regular donors in 2013, loses 500-700 each year, and relies on those remaining to be increasingly generous.
Use #NewsfromElsewhere to stay up-to-date with our reports via Twitter.