New Zealand: MP covered with mud at Auckland court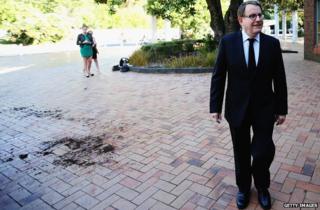 A man fined for plotting to throw manure over Prince Charles and the Duchess of Cornwall has struck again, this time hurling a bucket of mud at a New Zealand MP as he arrived at court to face electoral fraud charges.
TV New Zealand showed what it called a bucket of "foul-smelling" mud hitting MP John Banks on the arm. The incident delayed the start of the trial, while Banks changed into a new suit. The MP is accused of filing a false electoral return after a failed bid in 2010 to become the mayor of Auckland. The court alleges Banks knew about NZ$65,000 (£32,000) of campaign donations from Kim Dotcom, who started the now-closed file sharing site Megaupload, and another media group - which were listed as "anonymous".
The mud-slinger was later identified as Castislav Sam Bracanov, a veteran anti-royalist protester who was fined NZ$200 (£100) for his manure plot when the prince and the duchess visited New Zealand in November 2012. He was previously arrested in 1994 after spraying air freshener at Prince Charles. "I'll do it again and again," Bracanov said after his 2012 conviction. "I'll win one day."
Use #NewsfromElsewhere to stay up-to-date with our reports via Twitter.