Ukraine: 'Kitten carriage' to foster east-west friendship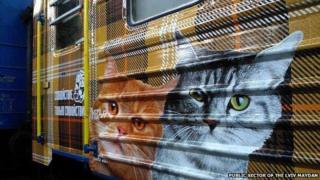 A train carriage adorned with kittens and a chequered background is due to make its maiden voyage between the Ukrainian city of Lviv in the west and Odessa in the south-east as a gesture of friendship.
The venture has been put together by activists in the west who are trying to dispel rumours about anti-Russian neo-Nazi groups that have been circulating in the east, ZIK TV in Lviv reports. On the outside, the carriage has kittens, a patterned background, and a message saying "keep calm". Inside, the carriage is furnished with teddy bears, books and cushions donated by the public. Its first journey is planned for 20 May, activist Kostyantyn Kovalyshyn tells the BBC.
The Public Sector of the Lviv Maydan, a pro-EU group in the west, says it hopes the train will promote commonly-shared values such as "cosiness, calm and the long-forgotten feeling of confidence in what is going to happen tomorrow", according to their Facebook page. Russian TV - widely watched in eastern Ukraine - routinely portrays residents of western Ukraine as violent neo-Nazis bent on attacking Russian-speakers in the east.
Some people in the east say they like the idea. "We all want peace and inner calm, cosiness and warmth," Odessa activist Alena Balaba says on Facebook. Trains have been used before to make a political point. Earlier, Russian activists spray-painted a Ukrainian train with the black and bronze colours of St George's ribbon, a symbol of the Soviet Union's fight against Nazi Germany in World War II that has been resurrected in the current unrest.
Use #NewsfromElsewhere to stay up-to-date with our reports via Twitter.