Ukraine: 'People's governor' worked as Santa-for-hire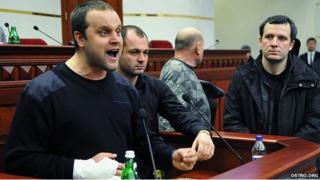 A key pro-Russian figure in eastern Ukraine - who is being called the new "people's governor" of the Donetsk region - used to work as a Santa-for-hire, it appears.
Before developing a reputation as a militant secessionist, Pavel Gubarev cut more of a grand-dad figure, posing as Grandfather Frost - the Russian version of Father Christmas - in promotional photos and festive videos by Morozko, a Donetsk-based rent-a-Santa firm.
"I've been working here since 2007, when Morozko was founded," Gubarev says on the company's website. "I like this job, I like acting as such, and I also like using it to make children happy," he adds. A video report aired by local TV company Union in 2012 says Gubarev is actually the company's director, and shows him singing a traditional Russian New Year's Eve carol. Gubarev also served as a Donetsk district councillor for the fiercely pro-Russian Progressive Socialist Party of Ukraine.
But Gubarev emerged from obscurity soon after the toppling of Ukrainian President Viktor Yanukovych in February 2014. At a rally the next month he was chosen as the people's governor in Donetsk and has been driving the occupation of regional administrative buildings, along with hundreds of pro-Russian activists. He was arrested on charges of separatism and seizure of public buildings, and was released from custody on 7 May, in exchange for three Ukrainian security service officers held by pro-Russian groups.
Use #NewsfromElsewhere to stay up-to-date with our reports via Twitter.