Russian alphabet spells out insults for Ukraine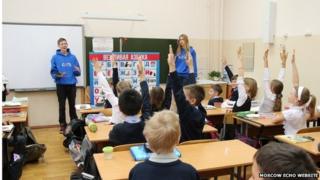 A pro-Kremlin youth group has produced an alphabet for schools that teaches "love for the homeland" as well as literacy, it's been reported.
Each letter in the Network youth project's alphabet stands for an aspect of Russian state policy, and many have a distinctly anti-Ukrainian agenda, Moscow Echo radio reports.
A is for Anti-Maidan - the Russian term for the pro-Russian movement in Ukraine, and B is for Berkut - the now-disbanded special forces that killed demonstrators in Kiev in February.
P stands for Putin, while Kh marks the Russian word for courage.
It is illustrated with a portrait of Crimea's pro-Russian prosecutor and glamorous internet meme, Natalia Poklonskaya. The letter that stands for Crimea features in the Russian spelling but not in the Ukrainian, which is firmly crossed out alongside.
Network activists are presenting the alphabet to schools in the Russian city of Irkutsk to begin with. They call it a "polite alphabet" in reference to a popular spelling book for children and to the "polite people" - a euphemism for Russian troops in Crimea.
Not to be outdone, Ukrainian social media activists have responded with their own alphabet, EuroMaidan website reports. It portrays Russia as a decadent land of boorish drunks, and spells President Putin with a "kh" - the first letter of a popular obscenity in both languages.
Use #NewsfromElsewhere to stay up-to-date with our reports via Twitter.