French media buzz brings bees back home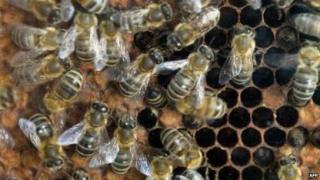 Stolen bees worth about 60,000 euros (£50,000, $83,000) have been found hundreds of kilometres away thanks to an anonymous tip-off.
More than 25,000 bees in 61 hives were stolen from beekeeper Bernard Nicollet's farm in Cerne near Lyon in March, La Chaine Info television says. Mr Nicollet told reporters the theft cost him ten years of work to build up the colonies. "The thieves would have been adept enough to how to find the hives that contained bees," he said, adding that they would also have needed specialist equipment.
Le Parisien newspaper says the bees, valued at £2 each, were found in Brittany after police received a tip-off by email. The suspect, an intern who worked for the owners earlier in the year, told officers he had bought the bees. Bernard's wife and business partner Marie-Christine said the "media coverage of the theft certainly explains the anonymous email". Once they receive a judge's order, the Nicollets can retrieve their bees.
Use #NewsfromElsewhere to stay up-to-date with our reports via Twitter.