Peru: Eleven tonnes of drugs to be burned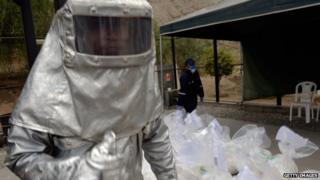 Police in Peru are burning more than 11 tonnes of drugs seized in recent months, media reports say.
The haul includes 600kg (94 stone) of cocaine - seized in a single raid on a house in Lima in March - as well as marijuana and it will take 10 days to incinerate everything, says La Republica daily. The street value of the drugs if sold in the US would reportedly be worth more than $101m (£60m).
Interior Minister Walter Alban Peralta says there has been a 48% increase in the amount of drugs seized from the same period last year. "There is obvious and significant progress in the fight against drug trafficking," he said at the incineration ceremony, La Republica reports, which also posted a video of the incineration.
From time to time, police in Peru and Colombia incinerate confiscated drugs, but the ceremony outside Lima on Tuesday was the first time drugs have been destroyed in Peru this year. An oversight committee was also watching, to ensure "the transparency of the proceedings" and certify the purity of the drugs to be burned, reports Radio Programas del Peru.
Use #NewsfromElsewhere to stay up-to-date with our reports via Twitter.