India: City criticised over call for pig-shooters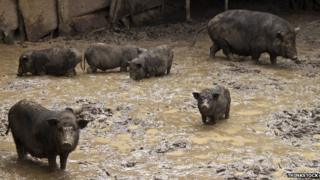 The Indian city of Shivpuri is under fire after it called on licensed gun-owners to shoot the city's pigs, which are apparently becoming a nuisance for residents, it is reported.
People were told to bring their own gun and cartridges, plus a copy of their licence to have a weapon, and to apply to the city council in order to take part, the Hindustan Times newspaper reports. The local authorities would issue contracts to the selected gunmen, based on their rates, the paper says, adding the shooters would be chosen in May.
But animal rights groups are not happy about the move. "This is cruel and it is not the solution," says Puneet Tripathi, founder of Animal and Environment Care Organisation, based in the provincial capital of Bhopal. "Other options - like shifting the pigs by removing them from the town - should be considered," he says. Some activists also say shooting the pigs would violate India's laws preventing cruelty against animals.
Pigs have been cited as a nuisance in other cities around in India. According to local media reports, pigs create a mess sifting through rubbish and overflowing drains, and disrupt traffic.
Use #NewsfromElsewhere to stay up-to-date with our reports via Twitter.