One quarter of New Zealand citizens born abroad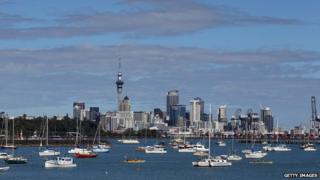 More than one million New Zealanders were born overseas, accounting for about 25% of the country's population, new census data says.
"People born overseas now make up more than a quarter of New Zealand's population," census official Gareth Meech tells the New Zealand Herald. It marks an increase from about 20% in 2001 and 23% in 2006, figures from Statistics New Zealand show.
Apparently New Zealanders now originate from a wider range of countries than before - with the number of people born in the UK diving from 66% in 1961 to just over 25% in 2013. It is now more common for Kiwis to have been born in Asia than in the UK, and India has replaced Australia as the third most common birthplace.
An influx of Asians over the last decade has also led to greater linguistic and religious diversity in New Zealand - with three times as many people speaking Hindi and twice as many speaking Chinese languages such as Mandarin.
Use #NewsfromElsewhere to stay up-to-date with our reports via Twitter.