Canada's Tsleil-Waututh Nation revives elk hunting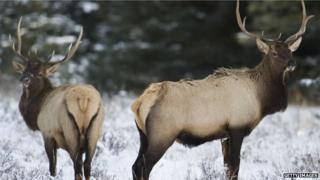 The people of Canada's Tsleil-Waututh Nation have hunted their first elk in 125 years, after the animal was recently re-introduced into the area, it seems.
Young hunters say they felt a sense of connection with their ancestors' traditions during the hunt, and afterwards they buried the animal's innards, made a tobacco offering and gave prayers of thanks, in keeping with hunting traditions, CBC News reports.
But some community elders disapproved of the modern hunting techniques, which included powerful rifles, a smartphone app to learn elk calls and cheering when the first elk was killed.
"This modern-day stuff, that jumping up and cheering," Chief Ernest George says. "You know, it's just their way of expressing. But, that was not the way we were taught." But the chief says he hopes that bringing back hunting will help the community's young people stay engaged with Tsleil-Waututh culture and tradition.
Elk were hunted out of Canada's lower mainland in the late 19th Century, but were brought back to the province of British Columbia about 10 years ago. They may only be hunted in limited numbers.
Use #NewsfromElsewhere to stay up-to-date with our reports via Twitter.