Indonesia: Clinics ready for depressed election losers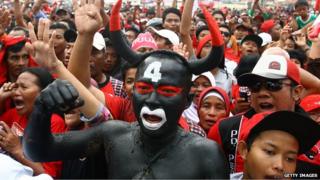 Hospitals and medical clinics around Indonesia have been told to get ready to receive depressed losing candidates after parliamentary elections on Wednesday, it's been reported.
"Most of the legislative candidates who will be prone [to depression] are beginners who are not ready to lose," says Fadhilah Masjaya, a hospital director in the city of Samarinda, the Jakarta Post reports. "Some of them probably have spent 1 billion rupiah ($88,000) alone - then it's wasted and they become distressed," she adds.
Last month, Social Services Minister Salim Segaf Al-Jufri called on hospitals to prepare special wards for losing candidates. "We predict that there will be a lot of distressed legislative candidates," he said. "Therefore we've coordinated with local administrations and hospitals to prepare special wards."
It's reported that across the country, more than 6,600 people are competing for 560 seats in the House of Representatives. But when all local elections are taken into account, there are apparently 19, 699 seats up for grabs with 200,000 people vying for them.
After the last elections in 2009, Indonesian media ran several stories about candidates suffering from depression, public breakdowns and even killing themselves. Most cases were attributed to debt people had taken on while campaigning.
Use #NewsfromElsewhere to stay up-to-date with our reports via Twitter.