Germany: Navy appoints first female submarine officer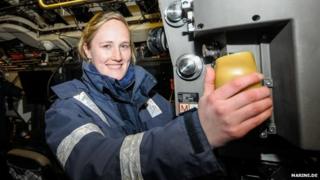 The German Navy has recently appointed its first female submarine officer, it appears.
Janine Asseln, 27, serves as the 4th watch officer on the Type 212 U31 submarine, the newspaper Bild reports. She was appointed in January, but reportedly first had to earn the respect of her fellow crew members. "Of course they poke you a little bit and check whether you can do the job," she says.
As the only female member of a 28-strong crew, Asseln shares a bunk bed with a male colleague. "Everybody has their own sleeping bag," she says, demonstrating there is a curtain that can be drawn for privacy, in a video on the Sueddeutsche Zeitung website.
German women have only had full access to military careers since 2001, after a constitutional ban on serving in armed units was repealed.
Bild notes that Norway already has a female submarine commander. But it adds that in a few years, Janine Asseln may follow suit in Germany.
Use #NewsfromElsewhere to stay up-to-date with our reports via Twitter.