Iran: Web browsing eats into Hajj pilgrimage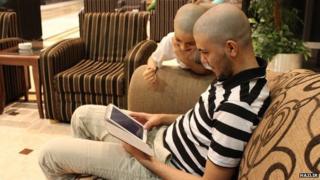 Iranians travelling to Saudi Arabia for the Hajj pilgrimage are spending hours surfing the web, it's claimed, in an apparent effort to take advantage of freer access to the internet.
Some people are so glued to their screens they are in danger of missing out on religious sites, Iran's Supreme Leader's office for pilgrimage affairs says. It is "causing challenges for the minor pilgrimage and makes pilgrims lose the invaluable opportunity of hajj," the office laments.
The office has published a picture gallery of "extensive web browsing" in hotel lobbies - by Iranian youths in particular. But the 10-day trip offers people a rare opportunity to access popular websites without using anti-filtering tools.
In Iran, blocking or filtering of websites is routine - although reformists and conservatives alike use the web to mobilise supporters and spread information. Facebook and Twitter are supposedly banned, but some of the country's most senior leaders use them.
In 2012, an estimated 26% of Iranians had internet access. President Hassan Rouhani's government has pledged to boost internet speed and un-block some popular sites.
Use #NewsfromElsewhere to stay up-to-date with our reports via Twitter.