You've been fooled: Round-up of April Fools stories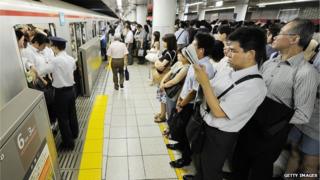 Commercial flights to Antarctica, an openly gay writer chosen as a Kenyan ambassador, and "scent alerts" planned for Tokyo metro stops, are just a few of the fishy stories spotted in foreign newspapers on April Fools Day.
The Japan Times told its readers on Tuesday that stations on Tokyo's central loop metro line will soon get "scent alerts" to remind distracted commuters that it's time to get off. Foul smells might even be deployed on the platforms to deter passengers from approaching already overcrowded carriages, the suspicious article says.
Meanwhile, Brussels Airlines, the Belgian national carrier, announced it was opening a new scheduled flight route between Brussels and Antarctica. The airline called it a "first in the history of aviation", but Dutch newspaper De Volkstrant strongly suspects the plan is tongue-in-cheek.
In neighbouring Germany, regional daily Hildesheimer Allgemeine Zeitung reported that a local premier wanted to introduce paid postage for emails. "The idea: to refill public coffers, email too is to be made subject to postage," the paper says. But the story later appeared in a special April Fools live ticker, put together by the best-selling newspaper Bild.
What about a tax on pet cats to help protect singing birds? Switzerland's Der Tages-Anzeiger suggested Zurich councillors were in favour of such a move, only to admit in a separate story that it was just a prank.
And in Kenya, a story in The Star newspaper claimed that openly gay writer Binyavanga Wainaina had been appointed as the country's ambassador to Uganda - where a law was recently passed that toughened penalties against gay people. But The Star admits Wainaina's appointment "might have something to do with the fact that today is April Fools Day."
Use #NewsfromElsewhere to stay up-to-date with our reports via Twitter.