Syria: First lady stars in emotional Mother's Day video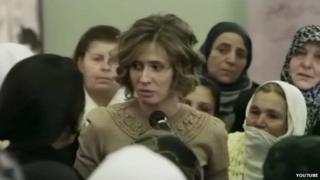 The wife of Syrian President Bashar al-Assad has appeared in an emotional Mother's Day video, in which she consoles mothers whose sons have gone missing in the country's civil war, it seems.
The 20-minute video, However Long It Takes, was posted on the Syrian Presidency Facebook page. For the first 10 minutes, the video cuts between six Syrian mothers who speak about their sons - soldiers, civil servants, students - and the circumstances in which they vanished.
British-born Asma al-Assad appears about 10 minutes in, welcoming a group of around 20 mothers to what seems to be the presidential palace overlooking Damascus. She then stands in front of a microphone and speaks to the mothers as they cluster around her, sometimes sobbing, sometimes reaching out to touch her.
The speech starts out on a sombre note, saying she feels the mothers' pain, the torment of not knowing what happened to sons who simply went out of the house and never came back. But Mrs Assad moves to a more uplifting tone, saying: "Syria is like you… tired but steadfast. Like you," she says, "Syria is proud and will rise with the sun of the future."
Mrs Assad promises that everyone will work for as long as is necessary for the return of those who have disappeared. Mother's Day is celebrated in Syria on 20 March, while most other countries mark it on 30 March.
Asma al-Assad has been known for her interventions in support of her husband, amid accusations that his regime has killed thousands of people in the unrest. She is also the subject of Western sanctions imposed because of the war in Syria.
Use #NewsfromElsewhere to stay up-to-date with our reports via Twitter.